NEW SCHOLARSHIP
The Forbidden City
The Forbidden City, by Geremie R. Barmé, London: Profile Books/Cambridge, Ma.: Harvard University Press, 2008.
The Forbidden City, Beijing. [Photograph: Lois Conner]
The Forbidden City is a title in the series Wonders of the World edited by Mary Beard and published in 2008 by Profile Books in London (the North American edition is published by Harvard University Press). The series takes as its focus iconic sites and monuments with complex historical and cultural resonances. Other volumes published to date include the Parthenon, the Tomb of Agamemnon, the Alhambra, Westminster Abbey and the Rosetta Stone.
The Forbidden City was produced under the aegis of the China Heritage Project at The Australian National University and with the support of an Australian Research Council Federation Fellowship.
As it says in the Introduction to the book:
Both the reality of an imperial court sequestered behind the vermilion walls of the Forbidden City in Beijing and the mysterious, but none the less powerful, perception of a secretive and hidden world at the heart of the enigma of China have contributed to the image of an inscrutable, capricious and cruel regime...

For twentieth-century Chinese writers, educators and revolutionaries, the Forbidden City became emblematic of the country's rigidity and backwardness; it housed the canker of autocracy which they blamed for keeping China from taking its rightful place alongside the other great nations of the modern world. In many ways, however, the Forbidden City and its modern fate parallel the history of modern China itself. This book traces that history, as well as discusses those who would penetrate the Forbidden City, literally or metaphorically.
The footnotes to the text of this book, with extended commentary, will be posted online at: www.chinaheritageproject.org/theforbiddencity.
The Forbidden City

Table of Contents

Introduction

A Reader's Guide
Emperors and Their Names
A Note on Romanisation
Timeline
Plans


Chapter 1 A Palace of Blood and Tears

Chapter 2 The Architecture of Hierarchy

Chapter 3 Rise and Decline

Chapter 4 A Day in the Reign

Chapter 5 The Dowager

Chapter 6 Within and Without the Palace

Chapter 7 Three Hundred Years On

Chapter 8 The Banquet of History

Ming and Qing Rulers
Glossary
Visiting the Forbidden City and Imperial Properties
Further Reading
List of Illustrations
Acknowledgements
Index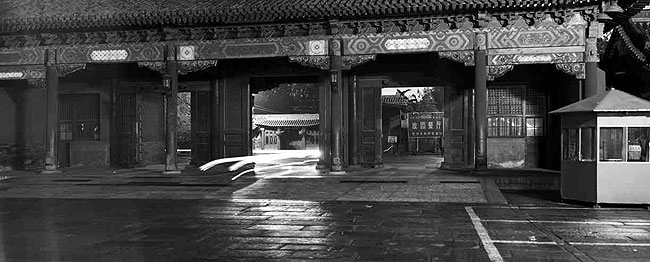 Eastern entrance to the forecourt of the Meridian Gate (
Wu Men
), the Forbidden City, Beijing. [Photograph: Lois Conner]